Directions
The Home of Back in Balance Therapeutic Massage and their amazing staff!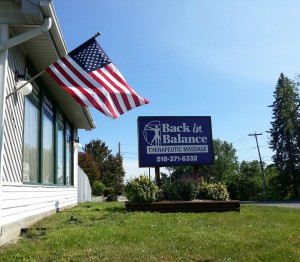 1427 Route 9, shop Halfmoon, seek NY
(518) 371-6332
(Across from The Tire Warehouse)
–From Route 87 (Northway)
From the South Take Exit 8:
-Go East on Cresent Rd/Vischer Ferry Rd all the way to the light (at the end by Stewart's)
-Turn Left at the traffic light onto Route 9 (North)
-Follow Rt. 9 to the top of the hill look for the Back in Balance sign on your right.
-Turn right onto Lansing Lane
-The parking lot is behind the the building.
From the North:
Take 8A  (instead of 8)
Take a left onto Grooms Rd
Follow to Route 9 (Halfmoon Dinner)
Turn right on Route 9 for approximately .8 mile
Back in Balance will be on your left.
Turn left onto Lansing Lane.
See you soon!
Please plan to arrive 10 minutes early if this is your first session with us.
Copyrights © 2016  Back in Balance Therapeutic Massage ®,  All Rights Reserved
Testimonials
"I receive massages from BIB on a regular basis. I have had several different therapists and although they all give a different massage they were all excellent. Each one was exactly what I needed at the time. They are all very knowledgeable in many different types of massages so you always get what you need. The whole staff is friendly, helpful and the atmosphere soothing and relaxing. I recommend BIB often and have always gotten good feedback. They are a small business but that is what makes them special-individual attention and very personable."
~ Mary Kate H, Albany, NY"
In June of 1990, I injured my back at work. Over the years, my back has gone out several times and with the use of chiropractic care I am on my way to recovery in a about a weeks time. Even though I received regular maintenance treatments from my chiropractor, my back still seemed to go out once or twice a year. In November 2000, I started receiving therapeutic massage from Jen Hathaway on a regular basis. Her treatments combined with my chiropractic care have really help me improve the strength in my back and my overall health. I am pleased to say since I began receiving massage therapy as an additional form of treatment that my back has not gone out. I am a firm believer that regular massage therapy contributes to a person's good health and well-being.
I would like to compliment Jen Hathaway at Back in Balance Therapeutic Massage for helping me become more educated in the field of massage. She has helped me improve my quality of life and for that I am truly grateful."
~ Jessica Petraccione, Clifton Park, NY
My journey Back in Balance Therapeutic Massage started, probably like many, with a sports injury. Several years later I consider that injury to have been a lucky break as I'm now at a place that seemed unreachable before. Much of that progress has stemmed from guidance and treatments received at Back in Balance.
~Matt Turek, Burnt Hills, NY
I started using Back in Balance Therapeutic Massage on a regular basis about 1 1/2 years ago.  I was dealing with lower back pain from carrying two kids around on a hip for years combined with rigorous exercise.  I could barely walk into the office on that first visit.  Loren Renaud was my massage therapist and she immediately went to work.  I call her 'magic hands'.  My relief was almost instant.  Loren talked to me about having regular massages as part of my overall health and fitness routine.  As a spin instructor and someone who loves to work out and do many other physical activities it made sense.  But could I afford it?  Could I commit to that schedule?  Well, can I afford to be barely able to walk on certain days?  Can I fit other things in my life that seem worth it?  YES!  And what has become of my commitment?  A pain free lifestyle that supports my commitment of taking care of my body and doing what is best for it as I get 'younger'.  So, 'magic hands' and I have a monthly date and I can't wait to see her.  My body craves it!  So will yours!
~ Jennifer C., Clifton Park, NY
"I've been a runner for years and have, in the recent past, had problems with tight hamstrings and other nagging muscle injuries. These problems usually lead to a long slow recovery process or reduced training effort. When I started receiving sports massage, Jen was able to massage out the tightness in areas of my legs that I never actually considered problem areas. The Active Isolated Stretching techniques she has taught me, I now do before and after exercise, have helped increase my stride length during my run. It also helps relieve tightness and muscle soreness. Regular sports massage has kept me flexible and limber, allowing me to run with reduced injury incidence and recover more quickly when an injury does occur. I highly recommend to any level of athlete to incorporate sports massage into their training program."
~ Jeryl Simpson, Clifton Park, NY
"I first sought massage therapy from Jen Hathaway of Back in Balance Therapeutic Massage to help relieve my own chronic muscle spasms, trigger points, and postural strain. I thought I would feel some relief, but I was happily surprised to find the effectiveness of Jen's therapy was longer-lived and more intense than I had anticipated.
As a chiropractor, I see people every day who have built up years of muscle tension surrounding their spines, and I know that massage therapy is a wonderful compliment to chiropractic care. Massage and chiropractic work to make each individual treatment more effective and beneficial. By addressing both the muscles and the joints, we can help each other's care have a more dramatic effect.
Jen's additional training in the field of sports massage and flexibility training make her an ideal colleague to refer more complicated cases. Jen's knowledge of anatomy, combined with her use of advanced techniques make her an excellent resource and true professional in her field.  I recommend Jen Hathaway of Back in Balance Therapeutic Massage to any person looking to reach his or her optimum level-whether it be in sports, rehabilitation, or relaxation."
~Ashlie S. Beicke, DC, Malta Chiropractic & Wellness Center
"Ever since joining the Southern Saratoga Chamber of Commerce, I have encountered a variety of interesting and wonderful people. I met Jen Hathaway, a therapeutic massage therapist and proprietor of Back in Balance Center for Therapeutic Massage in Clifton Park, NY through the chamber newsletter and chamber events. Being a professional musician, playing the acoustic guitar has often put strain on my shoulders and arms which has given me chronic pain for months. I visited Back in Balance for a series of treatments, and within a short period of time my problem has greatly diminished. I recommend Back in Balance to anyone who needs relief from body aches and pains or could use a little TLC to pamper themselves from the daily stress we all take in."
~ Russ Kennedy, Southern Saratoga Chamber of Commerce Member & professional musician
"I met Jen and Bethany at the 2006 Ironman USA in Lake Placid, New York through the IronHands massage program. I found the benefits of regular sports massage through my triathlon coach and was getting regular treatments during my long training season. My coach said I should schedule a pre and post-race massage. My pre-race massage was with Jen and it was awesome being able to talk with her while she worked to loosen up my muscles. Jen and Bethany's involvement with Ironman USA is invaluable to all of the athletes who participate. Being able to meet these two wonderful women enhanced my Ironman experience and they will forever hold a special place in my heart."
-Eric G, Ironman Triathlete
"At Back in Balance, the therapists are top notch. If my regular therapist is not available at the time I am booking I know I can be scheduled with one just as capable. Jen Hathaway, the owner, is very picky with her choices and caliber of therapist. Nothing but the best for her business."
~Craig H.,
"As a running coach for the Leukemia & Lymphoma's Team in Training program, I often have runners come to me with pain issues that we can't quite pinpoint. Back in Balance has proven time and again that they can help the athletes get to the root of the problem and once again run pain free. Often times when you go to the doctor with a running issue, the recommended solution is to stop running. Most runners don't want to hear that, especially if they are training for an event. The therapists at Back in Balance are athletes, too. They work with you while you are training to keep your body loose and limber so that you feel your best when you get to that starting line. Scheduling massage with Back in Balance is the first thing I recommend to my runners."
~ Meg McCabe, Team in Training Running Coach, Upstate NY/Vermont Chapter
"I have been running for three years now and have completed three marathons and three half marathons within that time frame. Thanks to Back in Balance I have been injury free! I first learned of Back in Balance when training for my first marathon with the Leukemia and Lymphoma Society. I was experiencing pain, which was pretty stressful since I had 4 months to prepare myself to run 26.2 miles. One of our coaches recommended that I go to Back in Balance for a massage. My therapist worked out the sore spots and then taught me stretches to reduce muscle tightness. I have been a faithful customer ever since and highly recommend Back in Balance to fellow runners, colleagues and friends alike."
~ Heather H, Team in Training Athlete
"The Can Am Rugby tournament is hosted annually in Saranac Lake, NY. This is the largest and most prized North American rugby tournament, and we are proud of this distinction, dating back to the 1970s. For eight years, Jen Hathaway and her associates have been providing excellent sports massage services for our tournament. This is a much-needed service for our athletes, and they truly appreciate Back in Balance's presence throughout the tournament. We will definitely continue our relationship with Jen and her massage team. I strongly recommend their services for any sporting event."
~ Lisa Muscatello, ATC, CSCS, Medical Director, Can Am Rugby
Copyrights © 2015  Back in Balance Therapeutic Massage ®, All Rights Reserved