All of our therapists are New York State Licensed professionals with advanced certifications in their areas of specialty.  Advanced training and experience really do make all the difference. Since 1996, we are have provided award winning therapy to customers all across the United States.
Jen Hathaway, BS, LMT, CKTP, Owner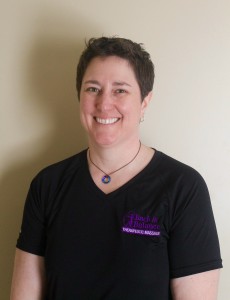 Jen is a professional member of the American Massage Therapy Association and received her massage training from Bancroft School of Massage Therapy in Worcester, MA. She holds advanced certification in Clinical Sports Massage, Orthopedic Massage, Myofascial Release, Active Isolated Stretching, and flexibility training and a certified in Kinesio Taping Practioner from The Kinesio Taping Association International.
She received a Bachelor of Science degree in Athletic Training from Russell Sage College, Troy, NY. She started her massage career at the Southern Saratoga YMCA in Clifton Park, NY in 1996. She served as both a certified YMCA strength training instructor and a massage therapist. Jen is the Sports Massage Instructor at Center for Natural Wellness School of Massage Therapy in Albany, NY.
She is also the Sports Massage Therapist for University at Albany's Athletic Program and has been a part of numerous championship teams. Her areas of specialty include clinical sports massage, orthopedic massage/injury recovery, myofascial release, and chronic pain management. She has provided sports massage at many events including The Ironman USA Triathlon in Lake Placid, NY, the Boston Marathon and Freihofer's Run for Women in Albany, NY. She has been a Captain  of the Massage Tent  at the Ironman USA Triahtlon for the last 17 years. She believes that regular massage is a priority in the lives of her clients and helps them achieve optimal health and wellness. In Spring of 2003, she was awarded "Outstanding Sports Massage Achiever" from the New York State American Massage Therapy Association in addition to receiving the "Entrepreneur of the Year" award from the Southern Saratoga Chamber of Commerce.
Brian Beane, ATC, LMT, OTR-L
Brian is a NATABOC Certified Athletic Trainer and a recent graduate of the Center for Natural Wellness School of Massage Therapy. As a graduate of Keene State College earning a Bachelor of Science degree in Sports Medicine, he has worked in various settings including clinical, high school and professional sports level.  Brian specializes in Sports Massage, Swedish, Injury Recovery and Deep Tissue Techniques. He also holds a degree in occupational therapy from Russell Sage College.
Kathy Hutson, BS, LMT

Kathy received a Bachelor of Science degree in 1979 from Slippery Rock University in Pennsylvania. She obtained her massage training at the Center of Natural Wellness School of Massage Therapy in Albany, New York. She was a competitive athlete throughout high school and college in sports including basketball, tennis, and volleyball. One of her fondest memories was qualifying to participate in the NJCAA Tennis Nationals in Midland, Texas in 1976 and 1977. Kathy is an avid runner and feels it is her responsibility as a Massage Therapist to maintain a level of physical fitness. She emphasizes the importance of gentle stretching before and after exercise. She offers Swedish Massage for relaxation and to decrease daily stress. She also provides Shiatsu, Deep Tissue, and Sports Massage. Kathy firmly believes that gentle stretches should be incorporated into each massage session. Her goal is to educate clients about the benefits of massage and to encourage self care.
Bethany Milazzo, AA, LMT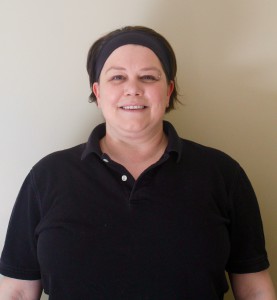 Bethany has been a professional New York State Licensed Massage Therapist at Back In Balance Center for Therapeutic Massage since 2006. She received her massage therapy training at the Bancroft School of Massage Therapy in Worcester, MA, in 2003 and is also a graduate of Hudson Valley Community College with an associate in arts. She is a professional member of the National Association of Massage Therapists. Bethany offers sessions tailored to each client's individual needs using various massage techniques including Swedish, deep tissue, sports, medical/injury recovery, pregnancy and lymphatic facilitation. She has a special interest in clients with fibromyalgia and enjoys working with younger children, as well as local high school athletes. She is also looking forward to working with local musicians as they are often overlooked as being true athletes in need of therapeutic massage. She prides herself on being an Ironhands Massage Team member, providing sports massage to athletes at the Ironman Triathlon in Lake Placid, NY, since 2005. She also provides on-site massage for many charitable events throughout the year including Tour De Cure, RITA Walk and Suicide Awareness Day.
Sherri Pierce; BS, MAED, RM, LMT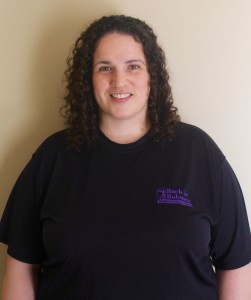 Sherri received her massage therapy training from The Center for Natural Wellness School of Massage Therapy in Albany, NY and is a professional member of the American Massage Therapy Association. Her areas of expertise with advanced training include deep tissue, Swedish massage for relaxation and stress reduction, hot stone therapy, medical/injury massage, lymphatic facilitation,myofascial release and energy work. Sherri's approach is gentle and compassionate, as she seeks to create a sense of calmness in sessions, incorporating varying techniques and pressure. She works with clients to understand and address issues of chronic tension in the body, encouraging client empowerment and self-care between sessions, as well as the benefits of massage. Her goal for each massage is to nurture the client by reducing the aches and pains of stressed muscles, improving mobility, and allowing for a sense of ease and well-being within the body.
Anita M. Peitrzak, LMT, CKTP
Anita received her massage training at the Center for Natural Wellness School in 2006. She is a professional member of the American Massage Therapy Association.  She enjoys taking advanced training courses to achieve a higher knowledge to bring to her clients. She holds certifications in CORE Myofascial Therapy & CORE Sport Bodywork as well as a Certified Kinesio Taping Practioner. She likes to customize each session to the client's needs. Rarely are two sessions exactly the same. She offers sessions in Swedish relaxation, deep tissue, hot stone therapy, sports massage, orthopedic massage, lymphatic facilitation, Active Isolated Stretching, Kinesio Taping and pregnancy massage. Anita actively participates at numerous sporting events including Ironman USA Triathlon Lake Placid where she is part of the IronHands Massage Team.  Whether she is traveling to work with professional athletes, weekend warriors or the everyday athlete, she will listen to their needs and work towards achieving client's needs.
Loren Renaud, AA, LMT

Loren Renaud moved to Upstate New York in 2011 from Rhode Island.  After 15 plus years of professional experience as a Licensed Massage Therapist in Rhode Island, she is a Licensed Massage Therapist and professional in New York State.  Prior to moving to New York, Loren was a Certified Massage Instructor at the Lincoln Technical Institute in Lincoln, Rhode Island as well as a practicing professional of massage therapy. Over her career, Loren has been associated with various health and fitness facilities in New England, along with being a certified group exercise instructor.  She was a chiropractic assistant for several years performing massage for personal injury patients, as well as therapeutic exercise.  Loren specializes in relaxation massage, deep tissue massage, hot stone massage, and rehabilitation massage for injuries.  She has worked on several professional athletes and has rehabilitated them back to professional performance levels.   Loren has also done on-site massage for several businesses at several venues over her career. Loren is an honored graduate and alumni of Bancroft School of Massage Therapy in Worcester, Massachusetts.  She also holds her Associates in Science Degree in Business Administration from the Community College of Rhode Island in Warwick, Rhode Island.  Loren is also an accredited and certified chiropractic assistant.  Outside of her professional interests, Loren enjoys fitness, reading, and spending time with her family.
Jennifer Cahill, LMT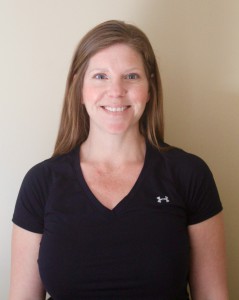 Jennifer graduated from the Center for Natural Wellness School of Massage Therapy in Albany, New York in 2014.  She was trained in Swedish and sports massage, neuromuscular therapy and myofascial release.  Believing that massage  can heal the physical body and deepen the mind-body connection, Jennifer focuses on improving her clients' range of motion and helping them achieve deep relaxation and relief from pain and stiffness.  It is her belief that massage therapy is both an art and a science and she tailors each session to the specific needs of her clients.
Jennifer's community service has included volunteer massage therapies for hospice patients, their family members and hospital staff at a local hospital and post-event sports massage to marathon runners.
In addition to massage therapy education, Jennifer has an Associates Degree in math and science and was a compounding pharmacy technician for several years.   She is a yoga and biking enthusiast.  Most importantly, Jennifer is committed to her personal growth and continuing education as a massage therapist and to working together with her clients to promote their education and participation in this powerful healing process.
Valerie Brown, AA, LMT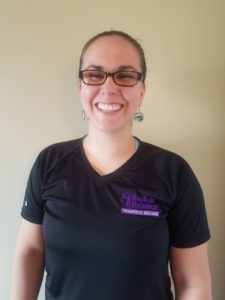 Valerie received her training at the Center for Natural Wellness School of Massage Therapy in 2016. She is a professional member of the American Massage Therapy Association. She graduated from Schenectady County Community College in 2015 with an Associates Degree in Nutrition. Through massage therapy, Valerie believes believes that she can help clients achieve the health & wellness needs while creating a safe and relaxing environment. She takes her time getting to know each client in hopes of building a long-lasting relationship built on trust. She specializes in Swedish/Relaxation, Deep Tissue and Hot Stone Therapy.
Miss Murphy, Relaxation Coordinator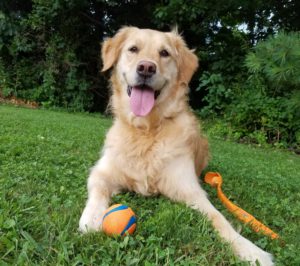 Murphy joined our staff in April 2011. She knew immediately she had very large "paws to fill" as the new Relaxation Coordinator.  She takes her job very seriously greeting customers and helping make every visit to Back in Balance Therapeutic Massage a positive one. Her kind and gentle spirit is a very welcomed energy in our office. Murphy is very proud of her recent success in passing the Canine Good Citizen Test.
In loving Memory, August 4, 1996 to June 9, 2010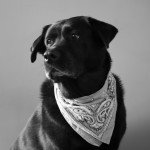 Molly "Moose" Molly graduated from Canine University with a degree in communications. She finds her position of Welcoming Committee Chair and Relaxation Coordinator extremely rewarding. Her philosophy is each day should be filled with lots of massage and several long naps in a tranquil and peaceful setting. She is now happily chasing squirrels at the Rainbow Bridge
Copyrights© 2017  Back in Balance Therapeutic Massage, LLC ® All Rights Reserved