Give your loved one, a friend, co-worker or even yourself the gift of health and wellness.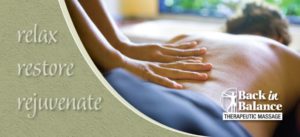 Order online thru PayPal
You may also purchase gift certificates by phone (518) 371-6332 or email us at info@bibtherapeuticmassage.com
 

Gift certificates are mailed directly to the address you provided us.  If you would like to make other arrangements, please let us know at info@bibtherapeuticmassage.com and we will be happy to assist you.



Regular Session Rates:
1/2 Hour Massage, $45
1 Hour Massage $75
1 1/2  Hour Massage $110
Hot Stone Massage $125
Pregnancy Massage $90
3 1-Hour Massage Package $210
Copyrights © 2017 All Rights Reserved.
Back in Balance Therapeutic Massage, LLC ® is a registered Trademark, Anyone selling/offering gift certificates other than this site is violating our trademark rights.
Please let us know.